Do you want to take your dart-playing skills to the next level? There's no better way to step up your game than by investing in a quality dartboard.
But with so many different varieties on the market, it can be difficult to know which one is best for you.
To make sure you're getting the most out of your purchase and improving as a player, check out this blog post as we explore the following reviews will make it easier to settle on the best dartboard to buy.
Quick Glance: The Best Dartboards to Buy
This dartboard will give you a breathtaking experience during your gaming, with 167 options, a built-in cabinet, and storage for your darts.
Its sleek cabinet not only acts as a storage area for your six soft tip darts but helps keep your setup neat and gives it a fantastic look.
Its nylon material is durable and precision engineered with concave segmentation holes on the target area to lock your shots.
The dartboard holds up to eight players; some of these games include cricket, 01, and others. It gives you over 180 scoring options, and everyone can join for more fun.
For a more enhanced scoring experience, the ultra-thin spider with an extended catch ring makes your scoring easier with effortless monitoring of every score.
You will find six soft-tip darts, six spare tips mounting hardware, and an AC adapter in the pack.
Winmau has made improvements in designing this model of bristle board. The professional dartboard has an endorsement from the British Darts Organization.
With this dartboard, you will enjoy maximum scores, which are made better by the 14% thinner wiring system than other generations of these dartboards.
The wide-angle has a razor design that advances the dart's deflection and reduces possible bounce-outs.
It adopts a triple-wheel level system that secures the board, and you can effortlessly move it to another wall or mount it in other areas.
Once you mount your board, it's easy to rotate it, level it on the surface, and put it in a locked position to avoid any movement.
Its bull ring is made using Carbon Diffusion Technology that increases the durability and strength of the steel.
Arachnid has put much effort into delivering the best dartboard that works perfectly for tournament play.
The dartboard has black, yellow, and red trademarked tournament colors that give it the classic look you are looking for.
Micro-thin segments divide the board to help avoid chances of bounce-outs, not to forget there's an indicator for the current player.
Apart from indicating the current player, you will get an evaluation of your game through the point per dart (PPD) at the end of each player's game.
The rigid nylon segments guarantee the durability of the dartboard, and its accuracy is excellent due to the highly responsive sensors. It also facilitates playing a quiet and calm game than traditional materials.
Its heckler feature makes the dartboard interactive by applauding excellent scores and harassing players who make bad throws. You can turn off the heckler when you don't need it.
Get this collection of TG dartboard sets to bring the whole gaming experience to your gaming room. It includes steel tip darts for improved gaming.
The standard 18 diameter is high quality and made from a self-healing wound fiber, which provides the dartboard with excellent durability and playability.
Its cabinet has a realistic walnut finish that incorporates a durable MDF construction with its doors mounted with a chalkboard to record scores.
When mounting the hinges, use the two screws in hanging the cabinet on the wall, and check the triangle hooks at the corners of the cabinet for proper insertion on the wall.
In the box, there is a set of six steel tip darts, chalk, an eraser, a chalkboard, and mounting hardware, and what makes it better is that the set can be used by all players apart from young children.
This dartboard is made from premium Kenyan sisal, which gives it superior durability. Its density is ideal, allowing your darts to penetrate quickly and heal faster after removing the darts.
The staple-free sisal dartboard has a wired system that increases the scoring area by 15%, providing a wider striking surface.
Its ultra-slim wire spider is 65% thinner than the conventional wireframe, minimizing bounce-outs or deflections.
You will enjoy every moment of gaming with your friends through the sturdy set of six darts that come in two different colors.
There are leather pockets used to store the darts, and the dartboard is easy to mount on the wall with no extra hardware required since it has a mounting kit.
How many types of dart boards are there?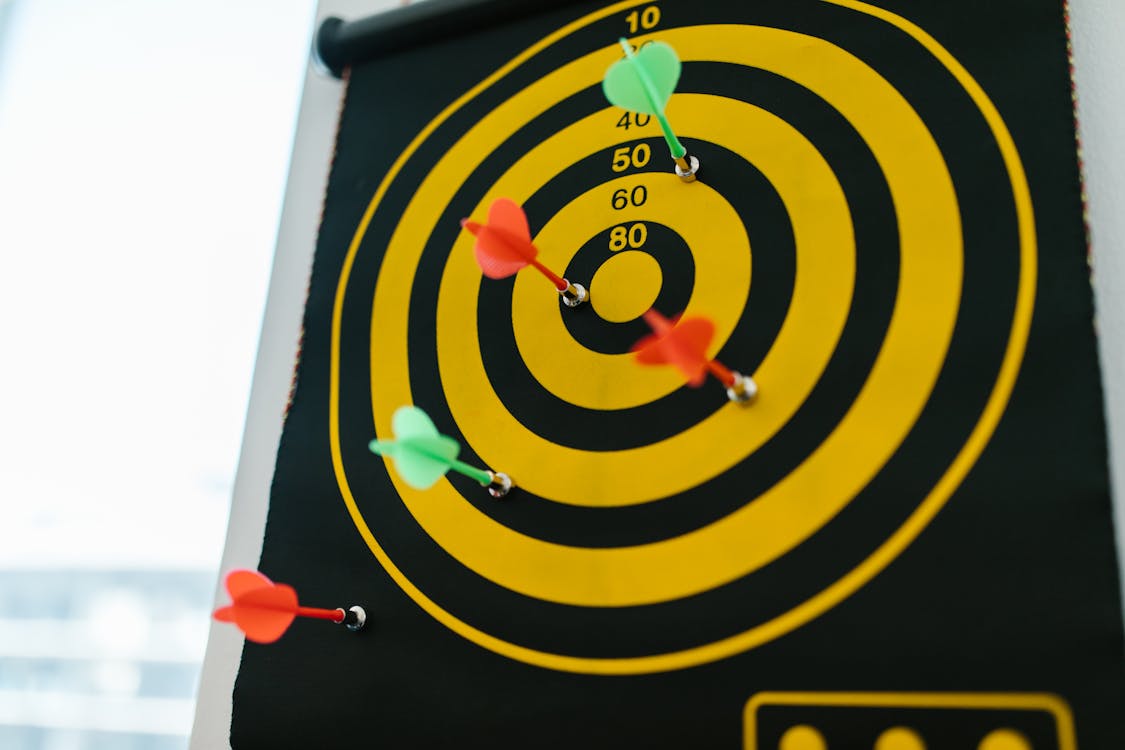 Dartboards come in a variety of sizes, shapes, and materials. The most common type is the bristle dartboard which is composed of densely packed sisal fibers that allow darts to easily stick to the board while still providing durability.
Bristle dartboards are considered to be the highest quality and can last for many years with proper care.
Other types include plastic or paper-based options which offer a less expensive option and often come in fun colors or designs.
However, these boards tend to not last as long as bristle boards so they're usually best for casual players who don't intend to use them heavily over time.
How do I choose a good dartboard?
When it comes to choosing a good dartboard, there are several factors to consider. 
The size of the board is also important as it affects how far back you need to stand while playing. 
Larger boards require more space and therefore a greater distance between the dart thrower and the target surface. If you're limited on space, look for smaller dartboards or ones with removable numbers so they can be taken apart when not in use.
The material of the board is also an important consideration as it affects both durability and performance. 
Look for heavy-duty bristle boards that provide strong support for your darts while still allowing them to stick securely into place. Plastic and paper-based options may not last as long but can offer a less expensive alternative if you don't plan on using them heavily over time.
Additionally, consider the overall design and aesthetic of the dartboard itself—there are hundreds of different styles out there ranging from classic woodgrain designs to bright neon colors! Find something that appeals to your taste and will fit nicely into your game room setup.
Finally, consider your budget when shopping around—you don't have to spend a ton of money to get a good board!  Just make sure you look into the features of each option before settling on one that best fits within your price range.
With these tips in mind, you'll have no trouble finding the perfect dartboard for any skill level!
What dart boards are used in tournaments?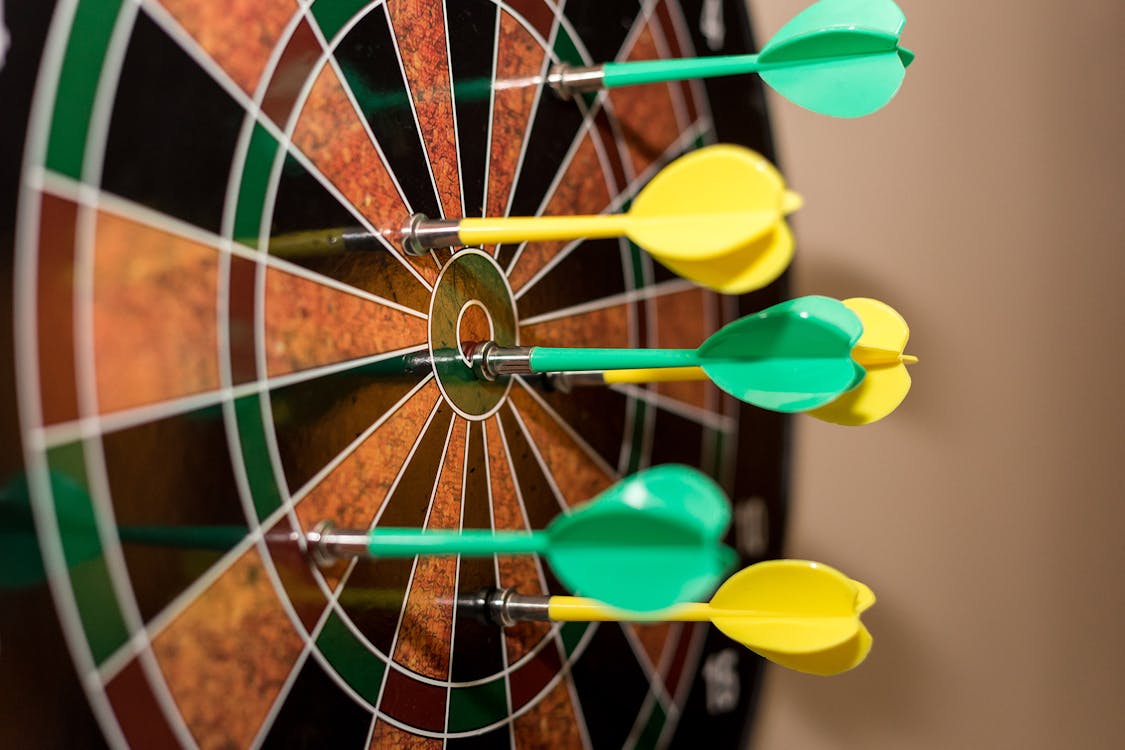 In tournaments, bristle dartboards are typically used since they provide a consistent surface and excellent durability that ensures the board will last for a long time. These types of boards also come in different sizes so you can find one that suits your playing style and space requirements.
Additionally, bristle boards have densely packed sisal fibers which allow darts to stick into the board easily while maximizing the lifespan of the board itself.
When it comes to tournament boards, many players prefer those with removable numbers so they can be taken apart when not in use. This helps save on storage space, as well as makes it easier to transport between tournament venues.
Some boards also feature wire rings around the target area which increases scoring accuracy and ensure fairness amongst players during competition.
Should I get an electronic or regular dart board?
When it comes to choosing a dartboard for your home, you may be wondering whether an electronic or regular board is right for you. Both types offer different benefits, so it's important to consider your needs and preferences before making a decision.
Regular dart boards are the traditional style and typically consist of densely packed sisal fibers that allow darts to easily stick into the board. These boards are often preferred by serious players as they provide consistent performance over time and require minimal maintenance compared to electronic boards. They also tend to be more affordable than their electric counterparts.
On the other hand, electronic dart boards can offer added features such as built-in scoring systems and sound effects which can create a more interactive experience during play.
Many electronic models also feature multiple game modes and customizable options that allow for greater variety within individual games. However, these boards require batteries and may have shorter lifespans than regular boards due to wear and tear on their electrical components.
Ultimately, both types of dartboards have their advantages and disadvantages, so it's important to consider how you plan on using them before making a final decision.
Regular dartboards may be better suited for serious players who want a durable board with consistent performance while electronic models are better suited for casual players who want additional features and sound effects during gameplay.
How do you make a dart board last longer?
To ensure that your dartboard has a long lifespan, there are several steps you can take to maintain it properly.
Firstly, you should use only good quality darts with sharp points and a good grip that won't damage the board's fibers. Additionally, keep the board away from moisture and direct sunlight, as these elements can cause damage to the surface of the board over time.
Other important maintenance tips include regularly cleaning the surface with a soft brush or cloth and using a no-bounce mat below the dartboard to help protect it from errant throws.
You should also check for any loose wires or fibers on the board every few months and replace them if needed. Finally, use board protectors or coverings when not in use to further extend its lifespan.
When should I replace my dart board?
Like any game equipment, dart boards eventually become worn out and need to be replaced. 
The average lifespan of a bristle board is around 5-7 years with proper care and maintenance, although this can vary depending on how often it's used as well as the quality of the board itself.
If your board starts showing signs of wear or damage, such as frayed fibers or cracked numbers, it may be time to replace it. Additionally, if the surface doesn't feel as secure or responsive when playing darts then this could also be an indication that it's time for a new board.
Ultimately, replacing your dartboard depends on several factors but following these tips will help you keep your current one in good condition for as long as possible.
Final Thoughts
You need the best experience in your dartboard games. Each dartboard should provide vast space and an increased surface area for landing darts. Owning the best dartboard will advance your steps in making the best out of you.
High-quality dartboards will give you hours of fun with friends or family without wearing out or losing their originality. In the top five Dartboards reviews, you will find one that impresses you and meets your gaming needs.